Active School Flag (ASF) is an initiative by the Department of Education and Skills supported by Healthy Ireland. It is awarded to schools who commit to developing and maintaining a physically active and physically education school community. As part of the process, schools aim to get active, more often.
All children require 60 minutes of moderate to vigorous physical activity every day but only 20% or one fifth of Irish children reach that target.
As part of the Active School Flag process, Scoil Bhríde will be developing four key areas:  Physical Education, Physical Activity, Partnerships and our Active School Week.
Active School Flag Website: www.activeschoolflag.ie
Active School Committee
We are so excited to get started and plan some activities for all the children and staff in Scoil Bhríde. Be sure to check out our Active School noticeboard in the hall where the Active School Committee will display any updates or announcements.
An Active School Committee was elected with members from Junior Infants all the way up to 6th class. The Committee meets on Thursdays during lunchtime to discuss and make decisions on how to make our school more active during the day.
Our committee members are Harry, Mason, Matthew, Zoe, Danny, Callum, Erica, Elliot, Oisín, Roisín, Dylan, Emma, Sophie, Tara, Arvin and Corey.
The Active School Co-ordinators in the school are Ms. Ryan, Ms. Murphy and Ms. Gleeson.
***
As part of The Primary School Curriculum (1999), pupils in Scoil Bhríde receive a minimum of 1 hour of timetabled physical education each week. On days when PE is scheduled, children can wear their school tracksuit and suitable footwear such as runners.
Physical Education or PE is split into different topics or strands such as: Athletics, Games, Gymnastics, Dance and Outdoor & Adventure.
Throughout the school day, there are lots of opportunities for children and staff in Scoil Bhríde to be physically active.
Remember to use your Super Troopers Journal and Wall Chart each night to keep track of all the physical activity you do and for some fun ideas to try out!
To keep your family moving throughout the year, Super Troopers add brand new activities to the Family Section of their website every month, so be sure to check back for more information and fresh activities.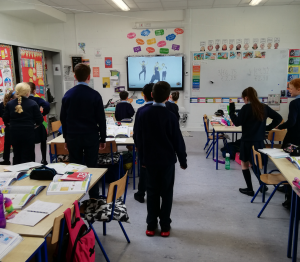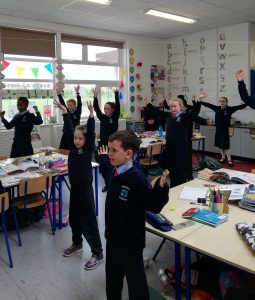 In Scoil Bhríde we are huge fans of GoNoodle and in Ms. Ryan's Fourth Class, NTV videos like Footloose and Can't Touch This are a big hit.
It's a great way to be active on a rainy day with channels like Indoor Recess and Brainercise with Mr. Catman.
Log on to https://family.gonoodle.com/ to try some of the activities for yourselves. Let us know your family's favourite!
If you are involved in a sports cub or are physical activity providers then we would be delighted to hear from you. We are anxious to get involved in as many new sporting initiatives and ideas as possible while we work towards our Active School Flag.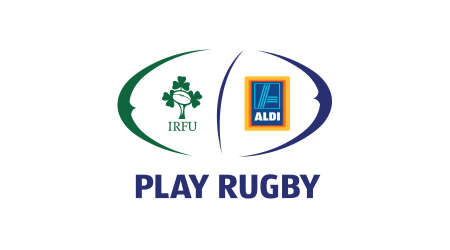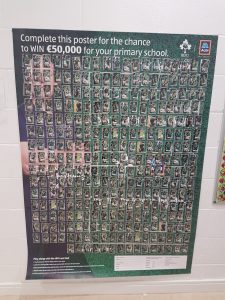 A massive thank you to all the pupils and staff that helped us collect 300 Aldi Rugby
Stickers. Pupils from the Active School Committee in 5th and 6th class tested our pupils knowledge by asking the all important question "What province did Paul O'Connell play for?" – the answer was, of course, Munster!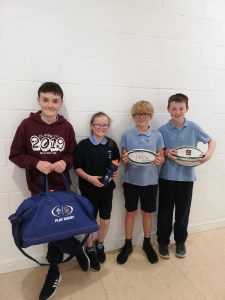 We really enjoyed collecting the stickers and completing the poster. We can't wait to get started with our new Aldi Play Rugby Kit!
Congratulations to Ms. McNeela's Fourth Class who competed in their very first cricket blitz. The children learned and practiced the various skills in the school with a coach from Cricket Leinster before making their debut appearance at the blitz last month. Many thanks to Cricket Leinster and Meath Sports Partnership for the fantastic opportunity.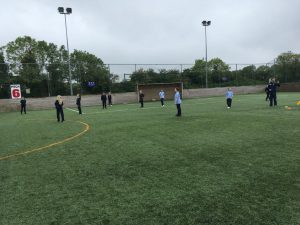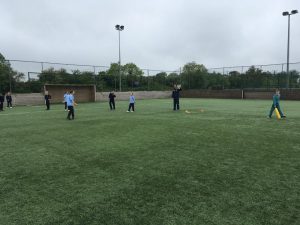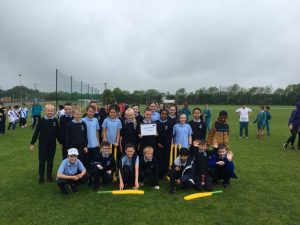 Active Schools Week
The weather didn't want to play ball for Active Week this year but we didn't let the rain didn't dampen our spirits. Many thanks to all the pupils in 5th class for organizing the various activities.
On Monday the Juniors and Seniors played cups and saucers while the older classes played dodge-ball. For the rest of the week we had other fun activities planned! Unfortunately the weather wasn't so great so we had to move some activities indoors. We hope everyone had a great time and the fifth class pupils had a great time hosting.
We are already looking forward to Active Schools Week 2020!
Helpful websites:
Here are a list of some websites or apps which you might find helpful in keeping active at home.