Active School Flag (ASF) is an initiative by the Department of Education and Skills supported by Healthy Ireland. It is awarded to schools who commit to developing and maintaining a physically active and physically education school community. As part of the process, schools aim to get active, more often.
All children require 60 minutes of moderate to vigorous physical activity every day but only 20% or one fifth of Irish children reach that target.
As part of the Active School Flag process, Scoil Bhríde will be developing four key areas:  Physical Education, Physical Activity, Partnerships and our Active School Week.
Active School Flag Website: www.activeschoolflag.ie
Active Home Week 2020
This year, Active Week is taking a virtual twist and we are inviting you all to take part at home. We will be posting lots of activities and challenges for you to do in your garden or home in the days ahead so stay tuned and check back!
Some resources for gathering ideas can be found on the following links:
Active School Committee
An Active School Committee was elected with members from Junior Infants all the way up to 6th class. The Committee meets on Thursdays during lunchtime to discuss and make decisions on how to make our school more active during the day.
Our committee members are Harry, Mason, Matthew, Zoe, Danny, Callum, Erica, Elliot, Oisín, Roisín, Dylan, Emma, Davy and Dominykas. The Active School Co-ordinators in the school are Ms. Ryan, Ms. Murphy and Ms. Keating.
Be sure to check out our Active School noticeboard in the hall where the Active School Committee will display any updates or announcements.
***
As part of The Primary School Curriculum (1999), pupils in Scoil Bhríde receive a minimum of 1 hour of timetabled physical education each week. On days when PE is scheduled, children can wear their school tracksuit and suitable footwear such as runners.

Physical Education or PE is split into different topics or strands such as: Athletics, Games, Gymnastics, Dance and Outdoor & Adventure. In Scoil Bhríde, we use the PSSI lesson plans to guide our delivery of the PE Curriculum.
This table shows which strand is being focused on at particular times of the school year.
Throughout the school day, there are lots of opportunities for children and staff in Scoil Bhríde to be physically active. During breaktimes, children and staff are encouraged to be as active as possible by taking some simple steps like "Doing your Talking as You're Walking"!
Our Sixth Class love helping out in the Junior/Senior Infant yard at breaktimes.
Remember to use your Super Troopers Journal and Wall Chart each night to keep track of all the physical activity you do and for some fun ideas to try out!
To keep your family moving throughout the year, Super Troopers add brand new activities to the Family Section of their website every month, so be sure to check back for more information and fresh activities.
In Scoil Bhríde we are huge fans of GoNoodle and in Fourth Class, NTV videos like Footloose and Can't Touch This are a big hit. It's a great way to be active on a rainy day with channels like Indoor Recess and Brainercise with Mr. Catman. Log on to https://family.gonoodle.com/ to try some of the activities for yourselves. Let us know your family's favourite!
*****
The Active School Committee have launched a new initiative this year called "Fit Fridays". Each week we have an active assembly where the committee show 5 new exercises for the whole school to learn and practice. On Fridays we also have Drop Everything and Dance in the Juniors, Seniors and First Class yard. Our Active School committee are there to encourage everyone to jump, move and dance.
We're working on even more ideas for Fit Fridays so keep an eye out for any new activities you think we could try.
If you are involved in a sports cub or are physical activity providers then we would be delighted to hear from you. We are anxious to get involved in as many new sporting initiatives and ideas as possible while we work towards our Active School Flag.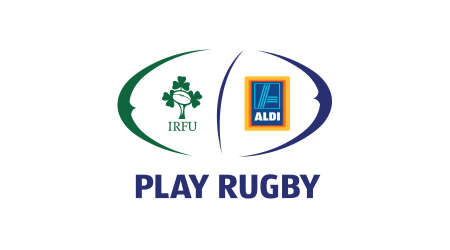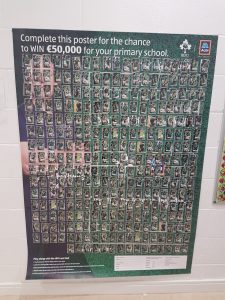 After our success collecting the 300 Aldi Play rugby stickers last year, we are very excited to get started again this year. As an extra challenge, we now have two posters to fill but that gives us double the chance of winning some of the great prizes on offer.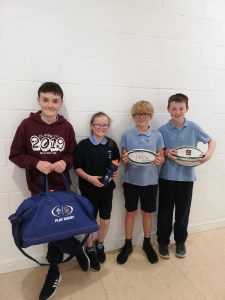 We are also really looking forward to getting great use out of our new Aldi Rugby kit this year.
Congratulations to Ms. McNeela's Fourth Class who competed in their very first cricket blitz. The children learned and practiced the various skills in the school with a coach from Cricket Leinster before making their debut appearance at the blitz last month. Many thanks to Cricket Leinster and Meath Sports Partnership for the fantastic opportunity.
Active Schools Week
The weather didn't want to play ball for Active Week this year but we didn't let the rain didn't dampen our spirits. Many thanks to all the pupils in 5th class for organizing the various activities.
On Monday the Juniors and Seniors played cups and saucers while the older classes played dodge-ball. For the rest of the week we had other fun activities planned! Unfortunately the weather wasn't so great so we had to move some activities indoors. We hope everyone had a great time and the fifth class pupils had a great time hosting.
We are already looking forward to Active Schools Week 2020!
Helpful websites:
Here are a list of some websites or apps which you might find helpful in keeping active at home.