Student Council 2022 -2023
The Student Council is hosting a fundraiser to raise funds for Syria and Turkey. There will be fun and games taking basketball and football shots! Thank you to the student council for their efforts.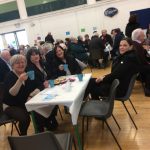 A big thank you to all grandparents who popped in for a visit and called into our classrooms to help celebrate Grandparents Day. Our Student Council members did a fantastic job of greeting our guests and escorting  them around the school. All the boys and girls were delighted to ask questions and  hear stories and
A new student council has been elected in Scoil Bhríde for the coming school year. Pupils from 4th-6th class were elected by their classmates. We look forward to a productive year. Here's our new crew:
Once a month the student council are  organising a fun Gaeilge Friday or "Aoine Aoibheann". On Friday 1st February they organised a quiz as Gaeilge for 3rd-6th class. We look forward to the next Aoine Aoibheann at the end of February.
The Student Council have been very busy of late. They organised and put together a whole school display for Daffodil Day. We were very impressed with the final product.