Covid-19 halted life as we knew it thus preventing many occasions and celebrations from occurring. Scoil Bhríde's 50th Birthday was no different! However, when regulation permitted, we as a school community celebrated in style on June 23rd 2022. Invitations were sent, choirs practiced, mass booklets were produced, banners were hung, historical photography was sourced, bunting and flower baskets were donated, cakes were baked while teachers and children alike prepared for this momentous occasion creating a 50th Commemorative Yearbook. On a beautiful sunny morning we welcomed our four Principal's, Board of Management members past and present, Parents Council members past and present, retired staff members, the local community and past pupils to celebrate mass followed by a gathering in our school hall. The children "Wowed" with performances, memories and laughs were aplenty while everyone celebrated Scoil Bhríde's momentous day. We look forward to the next 50!!
50th Birthday Invitation                                   Mass Booklet                                    50th Yearbook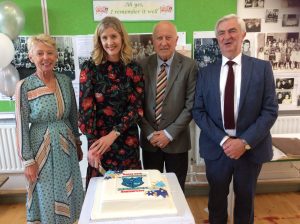 50 Years of School Leadership and Management Celebrating Together! 
(L-R) Ms. Doreen Duignan (2008-2017), Ms. Julie Dowd (2017-Present)
Dr. Vincent McDonald (1964-1971) & Mr. Michael McNamara (1971-2008)
Our Beautiful Church                                             Historical Photography
50 Years of School Photographs                         Delicious 50th Cake
A Fancy Spread!                                                        Celebration all round.