Dear Parents,
Communion: This week the boys and girls in second class have been busy preparing for the Sacrament of the most Holy Eucharist. We want to wish all our pupils in Ms Donnellan and Ms O Donovan's class the very best on what is a very special family occasion. Thank you to both teachers for their time and commitment in preparing the pupils. Many thanks to all the parent volunteers who are giving their time to organise the reception in the school on Saturday.
Soccer Success: Congratulations to Fiachra in 6th class whose soccer team won the Under 12 All Ireland final against Shamrock Rovers last weekend.
Uniform: It is important that all pupils wear their full uniform to school. We will consider shorts at a later stage in the term.
Punctuality and Attendance: Please ensure pupils are on time for school. Any missing days must be explained in writing using the yellow slips. The school is required to refer attendance concerns to the Educational Welfare Officer and so it is important all absences are explained in writing.
School Evaluation: As you know we are working towards improving standards of Irish in our school. Please check out our weekly phrase on the school website courtesy of our Student Council. http://scoilbhridens.ie/index.php/school-evaluation/
Testing: Our pupils will take their Drumcondra Literacy and numeracy tests before the end of May from first to sixth class. Some senior pupils talk of these tests causing them anxiety. It is important to note that these tests are for assessment purposes only, to help our teaching staff identify learning needs and put in place plans and strategies to support your children in the areas and numeracy and literacy. They are also for you as parents to have an idea of how your child is progressing in these two areas. Scores will go home with report cards in mid- June. I ask you not to compare scores or have children doing so, as each of your children are unique and have different talents, strengths and weaknesses. What is a fantastic score for one child may be an average score for another and vice versa.
You might remember these images I sent last year for you to consider! One a quote from Albert Einstein and the other a letter from the Principal of a school in Singapore to parents.
Kind Regards,
Julie Dowd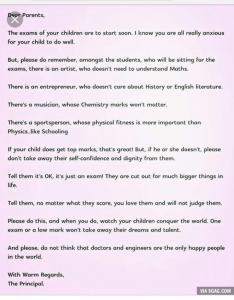 Albert Einstein:
Everybody is a Genius. But If You Judge a Fish by Its Ability to Climb a Tree, It Will Live Its Whole Life Believing that It is Stupid.